As explained in the second last article of this series, directions do influence us, and even the most materialistic inclined people know since body-building that specific exercises do train specific muscle groups.
The same applies to the mind which is known since thousands of years through the many yoga-postures which in its beginning stage of becoming known in the west still are merely seen as a female version of physical wellness, but the spiritual principles behind them are rarely understood.
However, in all spiritual directions, including the mainstream religions, specific postures were and are embedded in rituals, which then create a process the human has to undergo in order to transform. In a christian mess humble kneeling, attentive standing and sitting is regulated to emphasise on the attitude one should have during certain parts, the folding of hands balances out the left and right brain hemispheres, the islamic kneeling and bowing down which also is a yoga-kriya, levels the heart with the brain to prepare it for devotion, Ashtanga Yoga focusses on the transformation between several postures, and many more aspects can be found everywhere.
But in order to keep it simple let us focus on the most basic postures which serve as a root of them all and start with the upright position. Why do we always speak from heavenly forces from above? Christians believe in heaven, but we all know that there is no "angel-harp-bliss" somewhere up there. So we have to look at what does happen to us when we are "drawn down" or "uplifted". Gravity pulls us not actually down, but to the largest body of matter, in our case to earth, so over millennia we agreed on calling earths gravity pull down. But on a cosmic scale we merely are pulled to our nearest matter, hence the downward movement is associated with materialism, whilst the upward movement relates to a transformation out of it. Look at humans on earth – technically they don't stand up, but out into the universe:
And now let us see the universe as a bunch of neurones and synapses: The synapses are the knot-like structures, like our planet earth, and the neurones are the connections in between them. In intelligent people the connections between the synapses are improved as the term "lateral thinking" does indicate. When I was in a rehabilitation centre for stroke-recoverers I realised that the less mentally flexible people were, the more damage they had after their stroke. This is why in tests, pupils who had music and math lessons did better in math than those who did have twice the amount of math lessons.
So what do you actually do when you "rise to the heavens" in an upright meditation posture? You do connect on a macrocosmic scale the synapse earth to the cosmos and create a neurone into space, so on a microscopic level you access that space in between matter, of which there is 96% in the universe and way over 99% in matter. So exterior you are telepathically connecting to other planets and interior to unknown parts of yourself when sitting upright in order to dedicate yourself to the divine (what the next article will be all about).
Ancient Chinese had a sense for this energy which they called Qi, and Indians an even more non-materialistic one, which is called Prana, which Tibetans also call "Wind-energy". To distinguish the different aspects of Prana, 4 elements are used (which do correlate to western elements and to a certain extend correlate to the Chinese elements).
Earth is as mentioned above descending in nature, hence the downward arrow symbol and the line through indicates that it is a final stadium.

Fire is ascending in nature and transforms matter into Prana, there is no line through, because it is a process transforming earth to air.

Air is the ultimate upwards energy, hence it has a line through.

Water, finally, does transform air back into matter (earth), just as rain does, hence no line through.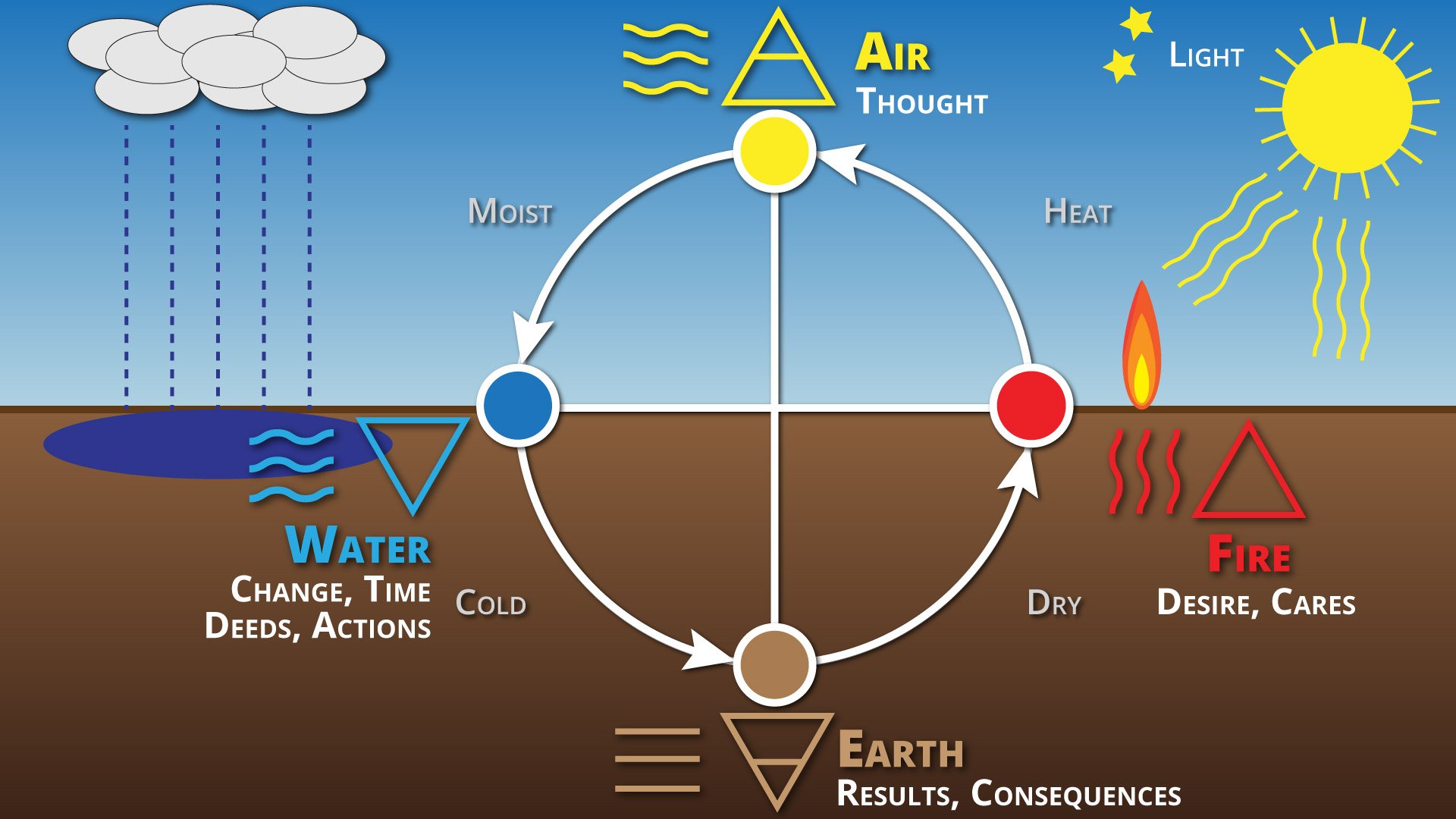 To sum up the 7-fold Veru Chana Posture meditations: There are different Wind-energies inside a person:
The wind which excretes waste enters inside the central nerve channel, eliminating  negative emotions: (click on the symbols to learn more about the elements)
You now can implement this knowledge into your own daily practice.
< previous article: #3 : proper breathing techniques     
next article: #5 :  surrender to the wisdom of the universe >